Fukuoka Tower

Fukuoka tower is a very popular travel spot with a sea breege from Hakata Bay. It is one of the highest towers in Japan, which stands close to the seaside. We can see the islands floating on the beautiful Hakata Bay and the heart of Fukuoka City from the observatory.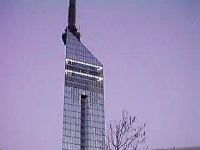 This Fukuoka Tower is a monument of our city. It's height is 234 meters (about 767.7 feet). The observation floor is 123 meters (about 403.5 feet) tall, and we can have soft drinks at Cafe Dart 234 on its floor. It has about 8000 galss wall panels, and many light bulbs to show up in the night. The most beautiful season is July, because it's lightened up like the milky way. Of course, it has a function of broadcasting tower. At the foot of it, there are two broadcasting station building, TNC and RKB. They use the tower as the main broadcasting spot.

---

This page was written by Shushi Nakamura.

---

COPY RIGHT 1997: All rights reserved. All the articles and images were featured by Momochi J.H.S. Computer Club.