The TNC Broadcasting Hall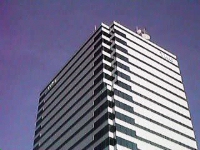 TNC is a major broadcasting company in western Japan. The company broadcasts radio and television programs from the TNC Broadcasting Hall in Momochi-hama, right next to Fukuoka Tower. The building is large (12,000 square meters) and contains broadcasting studios, a shopping area(Paveria), and Matsushita Electronic Company's computer and electronics showroom, Fukuoka Pahn(P/N for short). I think the most exciting part is P/N; let's go up to the second floor and start our visit there. At P/N, you can actually touch and experience the newest electronic technology from Matsushita Electronic in seven "corners". The first is Ring ring, an Internet cafe. Here, you can surf the net for 30 minutes for five hundred yen while you enjoy fresh coffee. The second corner is Pahn Hall. This is a miniature theater, showing movies from Matsushita. The third corner is the Multimedia Salon, showing the latest technology for business. I was very impressed to see a computer and printer which is able to print books and documents in Braille symbols.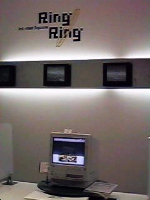 The fourth is Panasonic Lobby, exhibiting the newest home appliances from Matsushita, such as televisions, telephones, CD players, and even bicycles. The fifth corner is the "Living Corner", showing unit kitchens and baths made by Matsushita's National home products division. The sixth corner is car electronics. Streets in Japan are very crowded, and companies have invented a new way to guide cars through the traffic. This is the " car navigation system", which consist of a small television monitor and a computer, which tells you which roads are least congested. Last but not least is the software gallery corner. Here Matsushita exhibits its latest software. You canrace a computer to do a puzzle or play the 3DO REAL television game.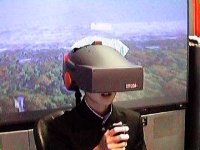 In my opinion, the most interesting thing in this corner is the virtual reality game. Enter a virtual world of the sea through a helmet and try to zap sharks with a hand-held controller. This game seems to be particularly popular among foreign visitors to P/N. After you have seen all of these home electronics products, you might want to visit TNC's pocket television studio on the fourth floor. Here, you can experience television and radio broadcasting. I think touching TV cameras and pretending to be a newscaster is very interesting. Next, let's tour Paveria. This includes the first and third floors of TNC Hall. On the first floor, there are restaurants, showrooms and shops. The restaurants include McDonald's, the well-known hamburger chain, Subway, a sandwich shop, La Manina, an Italian restaurant, Cafe DuMont, a New Orleans style cafe, and Masajo, which is a sushi bar. If you need a car to get around the city, visit the Yanase showroom(Mercedes Benz); if you want a jet ski to get around the harbor, visit the Kawasaki showroom ; if you have to call home, like "ET", stop by the NTT showroom for a cellular phone; and if you want to find out waht will be on TV when you get back to your hotel room, visit TNC's plaza. The shop includes stag beetles, for imported goods, Photo kids, which develops pictures, Lawson, a convenience store, The menu store, for printing and photocopying, Kyushu Abic, selling SONY appliances, and Ohori Kadan, a florist. The third floor of Paveria has more restaurants and a movie theater. The restaurants include two Yesterdays, one for for casual dining, and the other, for curry and salad bars, with facilities for parties. Tochinoki serves Japanese style noodles, Yasuda is a steak restaurant, and Torii serves a full menu of Japanese cuisine. The movie theater is Cine Salon Paveria. To get to TNC Hall, Take the 305 bus to either the TNC Broadcasting Hall bus stop or the Fukuoka Tower Minami Guchi bus stop. The hall is closed on the second Wednesday and Thursday of the month and on the first and second of January. Phone Cine Salon Paveria at 092-822-5650 to ask waht is playing.

---

This page was written by Hokuto Miura

and E.K.Swain.

Photos by Takahiro Ura.

---

COPY RIGHT 1997: All rights reserved. All the articles and images were featured by Momochi J.H.S. Computer Club.