HOTEL SEA HAWK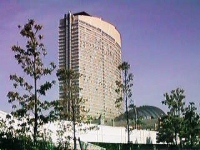 The thirty-five story Sea Hawk Hotel, next to the Dome, is worth a visit even if you are not going to stay overnight. There are two interesting restaurants in the Sea Hawk. One is Bunmei Ichijyo Gai, on the top floor. This restaurants serves Chinese food and features a wagon full of delicious steamed food which goes around from table to table. The kitchen is modelled after the outdoor kitchens of Shanghai, and the restaurant interior is full of interesting Chinese art, so you will get the feeling that you are in China as you look around inside. Looking out the windows, you will get an unbeatable view of the city.
The cafe in the hotel atrium is also very interesting. It serves delicious drinks and light snacks; right now, tropical drinks are popular. The artium is a cone-shaped, glass-enclosed area which has tropical parrots in a jungle of trees and tropical plants and a stream. It is very nice to spend an hour or so at the cafe listening to the parrots and water and day-dreaming.
The best way to get to the Dome is to take a taxi or the 305 bus from Hakata Station and Tenjin. The "Fukuoka Dome" bus stop is right in front of the Dome, so you will know exactly where to get off. If you want to go to the Sea Hawk first, stay on the bus for two more stops, to "Sea Hawk Hotel and Resort." It is also possible to go to the Dome and the Sea Hawk by car, but parking is not unlimited and there can be a lot of traffic, especially after baseball games and major events, so I recommend the bus.
The telephone number for information on events at the Dome is 092-847-1006. The Dome is open 365 days a year. Reservations for restaurants at the Sea Hawk can be made by calling 092-844-8000. At the Sea Hawk, single rooms start at 8,000 yen, doubles, at 18,000.

---

This page was written by E.K.Swain(8th grade student).

---

COPY RIGHT 1997: All rights reserved. All the articles and images were featured by Momochi J.H.S. Computer Club.