YUCHAN'S COOKING MENU
---



OKONOMIYAKI


OKONOMIYAKI is one of the most popular food in Japan. It looks likea pizza, but its taste is very different. This is a recipe of seafoodOkonomiyaki.
COOKING MATERIALS
Please prepare these materials: Flour, Shrimp, Squid, Cabbages, Eggs, Pork, Oil, Sauce, Dried bonito and Mayonnaise. You can add any kind of food you like.
HOW TO COOK IT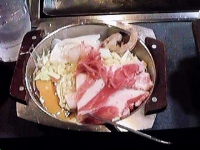 Cut the vagetables and seafood.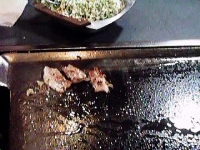 Bake the pork and other sea food. Add salt and pepper to adjust taste you like.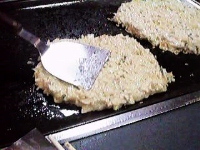 Put some flour into the bowl and add some water with cutting vegetabls into the appropriate size. Then stir them like making a cake. Put and bake the OKONOMIYAKI pancakes on the hot plate with meat and sea food that have already cooked.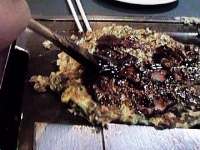 Please bake and flip them over to cook well inside them. Add dried bonito shaving flakes on the surface of the one side of the OKONOMIYAKI pancake. Please paste sauce on it.












After all please add mayonnaise on and devide them into some parts. That's all. Please try to make them. Good luck!