School Precepts at Momochi J.H.S.
---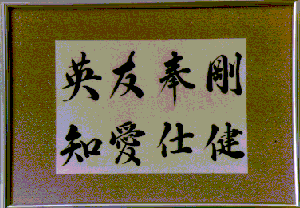 Our school curriculum is based on the following main principles: (right to left)

GOKEN
We are going to strengthen the body and spirit of our pupils.
HOUSHI
We'll center the volunteer spirit in education.
YUAI
Friendship and respect for others are the basis of human relationship.
EICHI
Wisdom and intelligence are essential elements for 21st Century people.